Get Ready for Summer 2017!
Get started on that family vacation plan the right way with the Wisconsin Dells Coupon Book, Splash Pass, Golf Card and VIP Drink Cards.
The Wisconsin Dells Coupon Book is Back! Filled with over 400 Coupons with an unbelievable savings of over $13,000! This is the only book you need to help plan your way through your Dells Vacation. It has never been easier to catch that great rate for your third night stay or add an incredible waterpark package to your stay. Eating out in the Dells will be a delicious experience when you can buy one get one entrees. A Free all day unlimited pass when you buy another - that's over $30 in savings right there. Do not miss out on these great offers, CLICK HERE TO buy your copy today!
---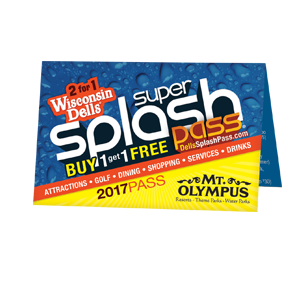 The Super Splash Pass offers a major chance to do more than you ever imagined doing in Wisconsin Dells. With these 2-for-1 offers you can go to a theme park during the day, go to a water park to cool off and take a boat ride down the Wisconsin River to finish off a great day. The Super Splash Pass offers deals for restaurants, attractions and as well as golf courses in the area. With the current price for the Splash Pass, you know this is a great deal! CLICK HERE TO buy your card today!
---
The brand new Camp Wawbeek Golf for Kids Card is an exciting buy one get one greens fee card benefiting Easter Seals Camp Wawbeek in Wisconsin Dells! In Celebration of their 76th year we are proud to offer this amazing card with 24 different Golf Courses all working together to help support adults and children in need! CLICK HERE TO buy your card today!
---
With the VIP Pub Crawl Card and VIP Cocktail Shaker card, you can really make a good impression with your friends buying rounds of drinks. These 2-for-1 deals are good for a number of popular locations in the Wisconsin Dells area. Use these on your outing to a nightclub, or perhaps take a stroll downtown and go bar hopping. These cards are really too good to pass up.CLICK HERE TO buy your cards today!
Order yours today online today or call 608-254-8770. These can be ordered individually but the best deal is to get the bundle.